Creating well and engaged employees is central to everything we do; we know they drive greater organisational performance, it's that simple.   Our Surveys connect employees to their wellbeing by identifying their wellbeing challenges.  Our Wellbeing Plans provide a self, supported and sustained approach to wellbeing improvement, whether completed by managers or individual employees these plans signpost employees to the most relevant wellbeing resources and support.  Our wellbeing partners do the rest.
Who will benefit from using kaya?
HR Directors & Wellbeing Leads
KAYA supports wellbeing leads and wellbeing champions and helps them to measure, manage and report employee wellbeing improvement activity.  Our Baseline and Pulse surveys provide insight into the employee wellbeing experience, how wellbeing is impacting employees work and home lives, and which wellbeing solutions would help improve their wellbeing.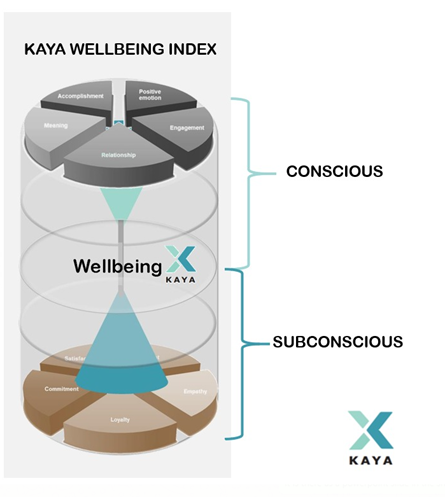 KAYA also supports individual employees and empowers them to make a difference with their wellbeing.  Employees who complete the Baseline or Pulse survey are provided with a mini Employee report and directed to solutions to help them with their wellbeing.  Employees Our Employee Level Surveys  how happy the employee is, it identifies the root causes of employee challenges and directs them to solutions that will help them improve the factors affecting their happiness and wellbeing
 Insight is created at a company, team or individual employee level and simple Company, Team and Employee wellbeing plans support wellbeing improvement.  Managers and employees are encouraged and supported through interventions that from internal and external providers.  At the company level My Wellbeing Plans sit with the person leading your wellbeing initiatives, this could be the HR Director, a Wellbeing Champion or your Chief Wellbeing Officer.  At the Team level it usually the manager who is responsible for the plans and of course we are responsible for our own wellbeing.